The bounty of Thanksgiving, from our family to yours.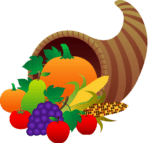 Every year, ACTC celebrates Thanksgiving by giving away holiday meals.
Volunteers and partners donate, pack, and distribute all the fixings for a feast for five — including the turkey and stuffing. In 2022, more than 2,700 of our neighbors in need enjoyed this Thanksgiving bounty. We're getting ready for another big event in 2023!
Need special holiday food for your family?
What: All the fixings for your family's holiday meal  

When: 10 a.m. to 3 p.m. on Monday and Tuesday, November 20 and 21

Where: Trinity Episcopal Church (120 Allegheny Avenue,) across from the ACTC building

How: By car, enter from W. Joppa Road. Food bags will be put into your back seat or trunk. If you are walking, come up the driveway from Allegheny Avenue. Food will be brought to you outside.
*Note that ACTC will NOT be offering other services and the ACTC building will be closed from Monday, November 20, through Sunday, November 26.
Want to donate?
Drop off Thanksgiving bags at Trinity Episcopal Church between 10:00 a.m. and 3:00 p.m. on November 15, 16, or 17. Purchase grab & go bags at a local grocery store beginning on November 1 — or buy the items on this shopping list and pack your own bag!

Many area churches organize food drives to support our Thanksgiving food distribution. Check at your church to see how to participate.

Financial donations can be directed to purchase items for Thanksgiving bags. (One bag costs approximately $30.) Just include "Thanksgiving 2023" in the memo line of your check or in the notes field with your online donation.
Want to volunteer?