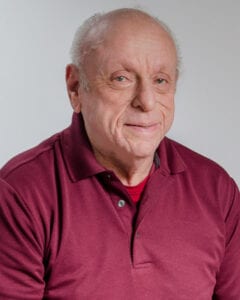 ​ACTC celebrates the life of Charlie Utermohle and mourns his death in August 2022. Charlie first came to ACTC as a volunteer in 2013 and most recently served as VP of Operations on the Executive Board and chaired the Personnel Committee.
Charlie loved his family and frequently talked about them and his wife, Lindy Park Utermohle, who was ACTC's first director and passed away in 2016. He loved renovating and improving facilities and homes, restoring cars and going to races like the Daytona 500, solving problems and serving on the ACTC Executive Board. Charlie helped renovate ACTC's current building in 2014-15, when he made friends working alongside the "Back Alley Gang" with whom he had breakfast regularly.
In 2020, he led the renovation of Trinity Episcopal's undercroft, increasing storage by 40% and making it much brighter and more pleasant to work in. That year he also advised Karen and Stephen Amrhein on design and installation of our building's inner door they built and donated to help keep us safe and operational during the pandemic. With his friend and fellow ACTC volunteer Larry Fresh, Charlie converted half of a storage shed at Central Presbyterian to house additional food supplies until we could find a larger warehouse to consolidate storage. With Larry and Bob Hoyt, he improved the classroom at Calvary Baptist ACTC used as office space.
Wherever there was a gap or a need, he sought to fill it. He worked with Pat Shaw at Thanksgiving to figure out a safe and efficient traffic flow, and he made and repaired the long carts that transported the bags as they were donated and distributed. He enjoyed working with his son James on many projects, including setting up new office space for ACTC in 2021.
Over the last several years he really enjoyed working with Cathy Evans and passing the baton of VP of Food Operations on the ACTC Executive Board to her. It was their great pleasure and the highlight of their work together to find and fill the warehouse we now use in Timonium.
Our sincerest sympathy and love go to his family, friends, fellow board members and volunteers. Their loss is great. Here's to you Charlie, we will never forget you.
More details from Charlie's life can be found in this obituary.
For those who wish to remember Charlie with a charitable gift, his family suggests a donation to one of the organizations for which Charlie volunteered or the church to which he and Lindy belonged: